How much is a square led display can consult Sunrise LED
147 views admin 2019-12-03
How much is a square
LED display
? In fact, there are often no eternal answers, because there are too many factors that affect the price of LED displays. Please find a professional to consult according to your needs.
First, the impact of specifications on the price of led displays
Led display can be divided into outdoor, indoor, single color, dual primary color, full color. The price of each type of LED screen is different. The difference in dot density also makes the price very different.
Second, the impact of raw materials on display prices
China's LED display is relatively dependent on foreign technologies for raw materials and core technologies. Among them, the quality of LED chips is also quite different, and the quality of LED display lamp beads is also a very important reason for price constraints. Each kind of light-emitting chip is not perfect, and has its advantages and certain disadvantages. US and Japanese chips, because they have always been the focus of technology, under similar circumstances, the prices of US and Japanese chips have been floating. There are also some production plants in Taiwan and China, but the performance is definitely different from that of the United States and Japan.
If the LED display is used in a very important place, it is better to use imported chips if the customer's budget is sufficient; even if the price is higher, the driver IC is a very important factor affecting the quality and life of the LED display screen. The quality of other aspects such as the impact of power, cabinets, and other accessories made by LED displays.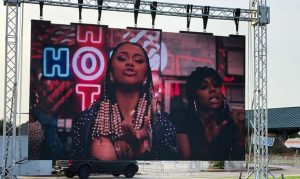 Third, the impact of corporate production costs on display prices
How much is a LED display? The production cost of each enterprise is different, so the price is different. In addition to the cost of raw materials, each LED display includes the costs of production, employee salaries, and logistics costs. Therefore, when we choose a LED display, do not choose blindly because of the price of the LED display. We must choose according to our own conditions, not necessarily the high price, and the low price is not good. We must choose the right product according to our own needs. . In order to make better use of LED displays to create more benefits.