Solution of rental LED display screen
366 views admin 2019-08-08
Solution of rental LED display screen in different stages
Application places:
It is suitable for different stages usage such as Stage rental, cabaret evenings, various conferences, exhibitions, stadiums, theaters, auditoriums, lecture halls, multi-function halls, conference rooms, auditoriums, high-end entertainment discos, TV stations, spring festivals, auto shows, and important cultural events and etc.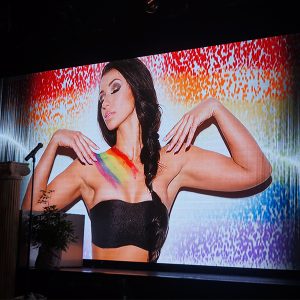 Using synchronous control system processing, it can accept various video input signals such as DVI, VGA, HDMI, S-video, composite, YUV, etc.Itcan play videos, graphic and other programs at random, and play them in real time synchronously and in a clear manner Information, Realistic colors, strong adaptability. The rental led display is a custom-designed die-cast aluminum box design that is light, thin, and quick to install as its most important feature. The cabinet is light and thin, can be quickly installed, removed and transported, and is suitable for large-area rental and fixed installation applications.It will perform a HD seamless and stunning image for audiences!
The feature of the scheme:
The Rental LED display is light in weight, thin in structure, has lifting and quick installation functions, so that it can meet the requirements of quick installation, disassembly, and handling required in rental applications. It is easy to load and unload, easy to operate. Entire screen is unloaded and fast bolted and connected?and can be precisely and Quickly screen and dismantle screens. It?can fight different shapes to meet site requirements. Unique process: unique structural design of welding process optimization to avoid frequent failures caused by contact failure of electronic product solder joints.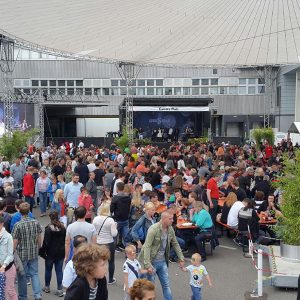 Light weight, slim, and quick-mount design allows you to complete the installation and removal of the display in a short time. Supports arbitrary signal lines, satisfies the arrangement and placement of different cabinets, and creates images with different effects. With a professional video processor, support AV, DP, VGA, DVI, YPBPR, HDMI, SDI and other signals. Support brightness adjustments and white balance custom adjustments, making different batches of display screens can be mixed use. Signal processing: Adopt signal folding technology, and the unit modules do not need to cascade, which greatly improves the display performance of the products. Using signal folding technology, the unit modules do not need to be cascaded, which greatly improves the product display performance. Mask: The patented mask is used. The mask is fastened with the back fastening. The LED lamp can be easily maintained beforehand. The fastening screws on the front of the mask can't be seen. The screen surface has good integrity and there is no light leaking when the screen is lit. The highlights. Modules: The use of large modules, only four modules per box, reducing the internal connection and improve product stability. Without opening the cabinet, the display module can be directly detached from the back of the cabinet. Without opening the box, the display module can be directly disassembled from the back of the box. Rear cover: remove 4 screws, remove the back cover, then you can maintain and replace the power supply and receiving card. Radiating plate: The use of an aluminum floor plate instead of the traditional plastic bottom shell, while ensuring the flatness, while improving the product's thermal performance. IC and Drive: High refresh rate, high grayscale high refresh rate, high grayscale 16384 grayscale products use built-in PWM high-end constant current driver chip. In the case of a single receiving card, the display refresh rate can be as low as 960HZ and as high as 4800HZ. Grayscale up to 16bit, smooth screen, can easily meet the stage performance, broadcast and other high-end applications. The DC power cord adopts the American standard wire rod, the power input adopts the surface mount socket, the power cord is not easy to loosen, the line loss is minimal during the power transmission, and the input voltage is stable. Capacity: The new structure design meets the lifting and stacking requirements to meet indoor and outdoor requirements. Simplified cabinet, compatible with multiple point distances, compatible with indoor and outdoor modules. High grayscale high refresh rate design, grayscale level 14 bit, refresh rate?can be up to 4800Hz. Excellent heat dissipation design and heat dissipation performance, without external fan, air conditioning, etc., low noise; cabinet light weight, low installation cost required; low cabinet power consumption, saving operating costs. Good waterproof effect, with IP65 protection rating, suitable for outdoor use. With a variety of specifications of the air box, easy to store and transport the box, and the LED display has played a very good protection. Customize the most suitable LED display rental solution according to customer requirements and site environment.